Lifetime Brake Pad Guarantee
July 03 2019, Forman Honda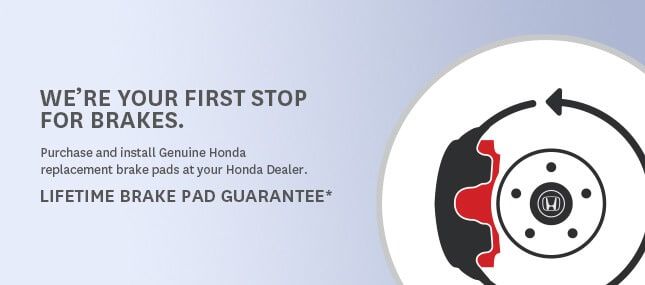 When you press your Honda's brake pedal, the friction material on the brake pads is pushed against the brake discs to slow or stop your vehicle. Each time the brakes are used, a small amount of this material is worn off, eventually requiring replacement. Forman Honda understands how integral braking is to your safety. That's why we're proud to offer a Lifetime Brake Pad Guarantee* on Genuine Honda replacement brake pads.
† Purchase and install select Genuine Honda replacement brake pads at a participating Honda dealer and your dealer will provide future replacement brake pads for the same brake component system at no charge, for as long as you own the vehicle.*
Brake Pad Guarantee Terms and Conditions
1. This guarantee does not apply to vehicles equipped with brake shoes or brake drums.
2. Only available for bona fide purchasers of Genuine Honda replacement front or rear brake pads for Honda automobiles (certain model exclusions may apply) on or after July 4, 2016. Guarantee includes brake pad parts only for the specific brake component system they were purchased and installed for (either front or rear). Initial and subsequent brake pad replacements during the valid guarantee period must be installed by a Honda Certified Technician at a participating Honda Dealer in Canada.
3. Brake pad installation costs and any costs for labour or parts required to return the brake system to its original operating condition, are excluded from this guarantee. Machining and replacement of brake discs are excluded. Guarantee does not cover loss of use, towing charges, transportation or other incidental damages or parts supplied by customer.
4. All factory-recommended maintenance must be completed as specified by the vehicle's Maintenance Minder system and owner's manual. Brake system must be returned to its original operating condition (including machining or replacement of brake discs), before subsequent replacement brake pads are provided. All other brake system component replacements must be done with Genuine Honda parts and by a Honda Certified Technician at a participating Honda dealer in Canada.
5. Guarantee is applicable to regular wear only, based on inspection and recommendation by a Honda Certified Technician at a participating Honda dealer in Canada. Brake pad thickness for parts in which guarantee applies to must be documented as 2mm or less in order to qualify for replacement under the guarantee.
6. Guarantee is non-transferable to any other person or vehicle and applies only to the original purchaser of the replacement brake pad parts for the vehicle on which they were installed. Not applicable to wholesale customers or over-the-counter purchases.
7. No extra charge for guarantee and no substitutions.
8. A copy of the repair order/invoice must be retained and presented to the participating Honda dealer as proof of purchase and eligibility at time of any subsequent brake pad replacement pursuant to this guarantee.
9. Brake pad guarantee does not apply to vehicles that have been modified, used for racing purposes, declared a total loss by an insurer, used to transport passengers (e.g. taxi, limo, ride-sharing), or otherwise used as a fleet vehicle (e.g. rental, emergency services).
10. Brake pad guarantee is subject to change or cancellation at any time, without notice. Valid in Canada only in respect of brake pad purchases in Canada. Excludes all other guarantees, expressed or implied. Guarantee eligibility applies to Canadian vehicles (VINs) only. See your local participating Honda dealer for more details.